Special Educational Needs & Disabilities (SEND)
SEND Provision
Special Needs Co-ordinator (SENDCo): Miss Anna Shicluna
Please contact us through the School Office.
At Houldsworth Valley Primary Academy, we are committed to the equal inclusion of all pupils in all areas of school life. We recognise the diverse and individual needs of all of our pupils and take into account the additional support required by those children with Special Educational Needs and Disabilities (SEND). We ensure that all pupils, regardless of their specific needs make the best possible progress.
There are four broad areas of SEND, these are:
Communication and Interaction
This area of need includes children with Autism Spectrum Condition and those with Speech, Language and Communication Needs
Cognition and Learning
This includes children with Specific Learning Difficulties, Moderate Learning Difficulties, Severe Learning Difficulties and Profound and Multiple Learning Difficulties
Social, Emotional and Mental Health Difficulties
This includes any pupils who have an emotional, social or mental health need that is impacting on their ability to learn
Sensory and/or Physical Difficulties
This area includes children with hearing impairment, visual impairment, multi-sensory impairment and physical difficulties.
Please see link below for the SEND code of practice including guidance on the SEN and disability regulations 2014
https://www.gov.uk/government/publications/send-code-of-practice-0-to-25
Our SEND Information Report and SEND Policy can be viewed from the attachments section on this page and the link to the Trust SEND Policy is in the further information section, together with a link to the Suffolk Local Offer.
What are our admission arrangements for children with Disabilities?
The arrangements for the admission of pupils with Special Needs or disabilities to gain admission as pupils to Houldsworth Valley Primary Academy fall within our duties under the Equality Act 2010 and are the same as those applied to all pupils. Admission is in the first instance arranged by application to the school.
Houldsworth Valley Primary Academy will take steps to prevent disabled pupils from being treated less favourably than other pupils. We will use our best endeavours to ensure that no child is unable to attend Houldsworth Valley Primary Academy because of any special need or disability. In order to promote equality of opportunity for disabled children we will make reasonable adjustments (including the provision of auxiliary aids and services) to prevent them being put under a disadvantage.
In practice we ensure that classroom and extra-curricular activities encourage the participation of all pupils, including those categorised as having Special Educational Needs. Staff organise human and physical resources within the school to increase access to learning and participation by all pupils.
Existing facilities provided to assist access to the school by pupils with disabilities:
Wheelchair access onto school grounds and all entrances.
Disabled parking is available near the main entrance.
The building is on one level.
Wheelchair access into the school at the main entrance. Door is fully accessible.
Exterior lighting to improve evening access.
Children's disabled toilets.
Please also see the Accessibility and Equality Plan attached
We follow the 'rights respecting articles' to ensure all pupils receive the best education.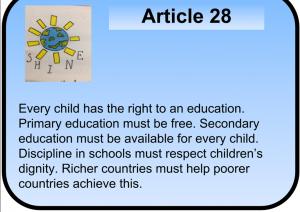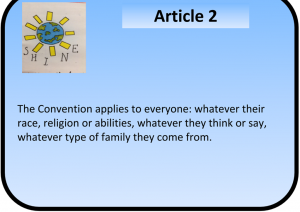 If you have concerns or worries about your child please make an appointment to see our SENDCo.
A Guide for Parents
The Department for Education has released a guide for parents and carers of children and young people aged 0-25 years who have special educational needs or disabilities (SEND).
To access the guide click here.
How can parents/carers get involved?
Suffolk Parent Carers Network [SCPN] is represented in overseeing the implementation of the SEND Reforms. As a parent/carer please feel free to use the contact e-mail address suffolkpcn@gmail.com for SCPN for any queries and or questions.
Further useful websites